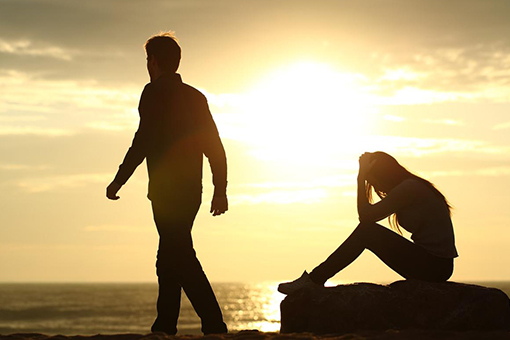 Breakup Problem Solution
Breakups generally involve extended periods of emotional turmoil for the people involved in them, but in the end, it only comes down to two contrasting options: do you let them go and carry on, or do you try to get back together and give things another shot? Both options involve a great deal of reflection and objective thinking, but what about all the things that cannot strictly be controlled? There are factors such as astrological compatibility, attraction, physical distance – amongst others – to consider. These cannot be determined by the actions of any one person in a relationship; they are made and shared by both people. But there are certain conditions in which these things can be manipulated – and it is these conditions that Pandit Chetan Sharma shall attempt to create in order to help you find a breakup problem solution.
There can be several reasons for a breakup. Perhaps one of you never had feelings for the other. Perhaps an increase in physical distance had a direct impact on the emotional connection you two shared. Perhaps one of you developed an attraction for someone else as the relationship wore on – or perhaps your attraction diminished over time. Whatever the problem, Panditji has a breakup problem solution.
Breakup Problem Solution
Pandit Chetan Sharma is originally an astrologer with impressive credentials: he has run a successful practice for over 15 years, and received much recognition in the form of accolades and honours, having been inducted into the Astrology Foundation of Austria in 2009 (and having been an important member ever since) and having received the acknowledgement of the Council of Astrologers (who bequeathed him the title of Jyotish Shiromani). Through his work, he has gained a large network of satisfied clients and followers, who can testify to his brilliance. His ability to synthesise breakup problem solution stem from his skills of deep empathy, patient listening, and analysis. His procedure to formulate breakup problem solution is as follows: he allows you to narrate your problems to him, after which he zeroes in on the cause of trouble, and advises you on how to correct it. His knowledge of astrology also allows him to see if the two of you are astrologically compatible; in the case that you are not, he suggests methods to overcome it, therefore providing a breakup problem solution.
Panditji is also very open to the use of Vashikaran. In such a scenario, he shall only pay an advisory role, and watch from afar as you chant mantras in search of your breakup problem solution.
Consult Pandit Chetan Sharma as soon as possible for a breakup problem solution, and patch things up before it's too late.
GET IMMEDIATE SOLUTION NOW
Free telephonic consultant and solution to your all problems NO NEED OF any APPOINTMENT/ MEETING DIRECT CALL
Call
or
Whats App
+91 9876897542